Dr. Evan Wiens
Evan considers it a privilege to improve lives through dentistry! Like Dr. Leitch, he is a graduate of UBC Faculty of Dentistry, and prior to that he completed his Bachelor of Science at University of the Fraser Valley in Abbotsford where both he and his wife Jennifer grew up.
Evan has a keen interest in oral surgery (wisdom tooth extractions and dental implants), endodontics (root canal therapy), restorative and esthetic dentistry and full mouth reconstruction (smile makeovers). He also is very well trained at providing dentistry for children. He is a student of the Kois Center in Seattle, Washington, of which Ian is a mentor. Evan and Ian continually train at the Kois Center to be able to provide you with leading edge dentistry. He is also a certified Invisalign provider enabling him to treat many orthodontic issues using "invisible" aligners rather than brackets and wires.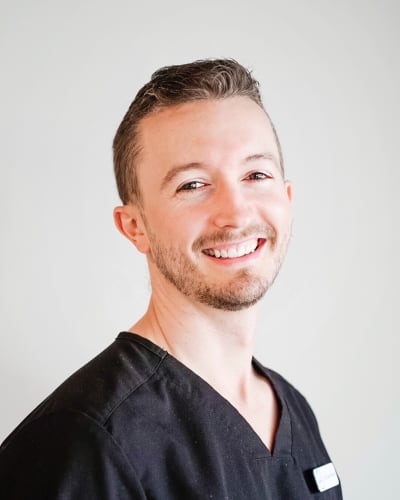 Evan is also actively involved in several volunteer community dental projects around BC, serving underprivileged communities with no access to dental care. In July 2013 he led a team of volunteer dentists and hygienists from UBC to provide much needed dental care to the Anaham First Nation community near Williams Lake, BC. It turned out to be the most successful volunteer clinic that UBC has ever had. Evan is looking forward to further building the ongoing relationship with this community. He is also on the editorial board for the BC Dental Association's journal, "the Bridge," informing dentists in BC of current issues in dentistry.
During dental school, Dr. Wiens was very honored to receive the British Columbia Dental Association Award for high academic standing and outstanding qualities in leadership and community service. He has also received the American College of Dentists Outstanding Student Leader Award for ethics in dentistry. Dr. Wiens was awarded the UFV Young Distinguished Alumni Award for his leadership involvement in the dental community and is one of UFV's top 40 alumni.
Between degrees he travelled to 17 countries over 9 months! Besides travelling, he is an avid kayaker, hiker, and biker in the summer and skier in the winter. He has also played the violin since the age of 5. He and Jennifer have two little boys that keep them very busy!