What to Expect as a New Patient
December 20, 2022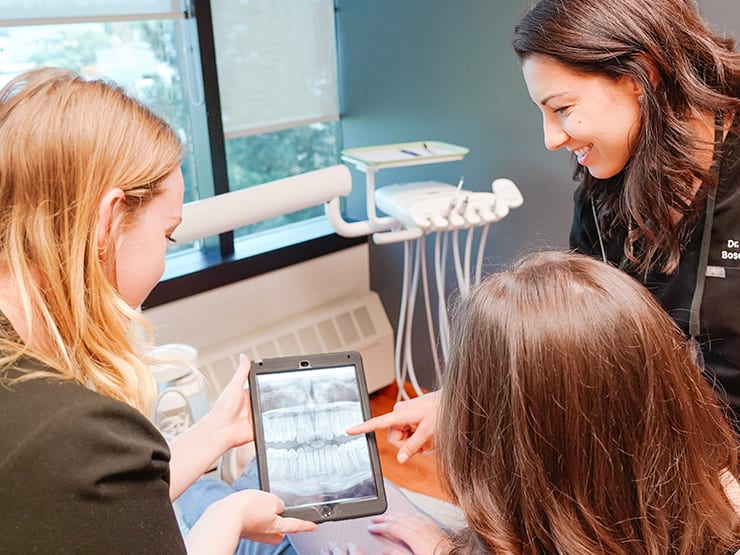 At Okanagan Dentistry, we love to teach our patients about their teeth! That is why we always complete a thorough new patient examination, where you can have any of your questions answered. Our goal is for you to leave our office with a true understanding of your recommended treatment and oral health.
As part of pursuing excellence in dentistry, we pride ourselves on providing a quality experience for our new patients! Here's what you can expect at your New Patient Exam:
Kois Medical and Dental History Forms
The medical and dental history forms we use at Okanagan Dentistry are not just a series of random questions! They are carefully curated to help us address your true concerns as efficiently as possible. Although these forms may take time to fill out, they save us from missing something crucial to your care.
Intraoral Cameras
We take a standardized series of photos to analyze smile esthetics, lip mobility, gum health, and tooth position. These photos not only allow us to maintain a record of your initial condition when you come to us, but they also allow us to clearly show you what we see.
Digital Scanning & Orthodontic Exam
When appropriate, we may scan your teeth and bite to digitally analyze how your teeth fit together. When it comes to your bite, seeing is believing! Many corrections to your bite can be achieved with clear aligners (like Invisalign) rather than braces.
Head and Neck Exam and Cancer Screening
We check every patient for both oral cancer and skin cancer! We have caught many precancerous lesions through this examination, and in some cases have saved lives through screening. If you have any skin or mouth lesions of concern be sure to let us know.
Periodontal Exam
At your initial appointment, we will triage your periodontal diagnosis and form a treatment plan with our hygiene department that is specific to your needs. Periodontal treatment is much more than just a "cleaning!" By discussing your gum health and any areas of bone loss we can prevent the progression of this hidden disease.
Dental Exam
The final piece is the exam and diagnosis of your teeth in terms of dental decay, the nerves and blood supply of the teeth, and structural compromise. Many of these issues are what bring our patients to the dentist in the first place.
Once we have our treatment plan, we will spend as much time as you need going through your records to ensure that you fully understand your options. To schedule your new patient exam, call or email us!
Okanagan Dentistry is a Kelowna-based dental office dedicated to providing the highest quality of dental care. Our unique family-oriented approach ensures that everyone receives the highest level of care and that we are continually improving lives through dentistry. Contact us today!