IN FOCUS: Dr. Evan Wiens
October 17, 2022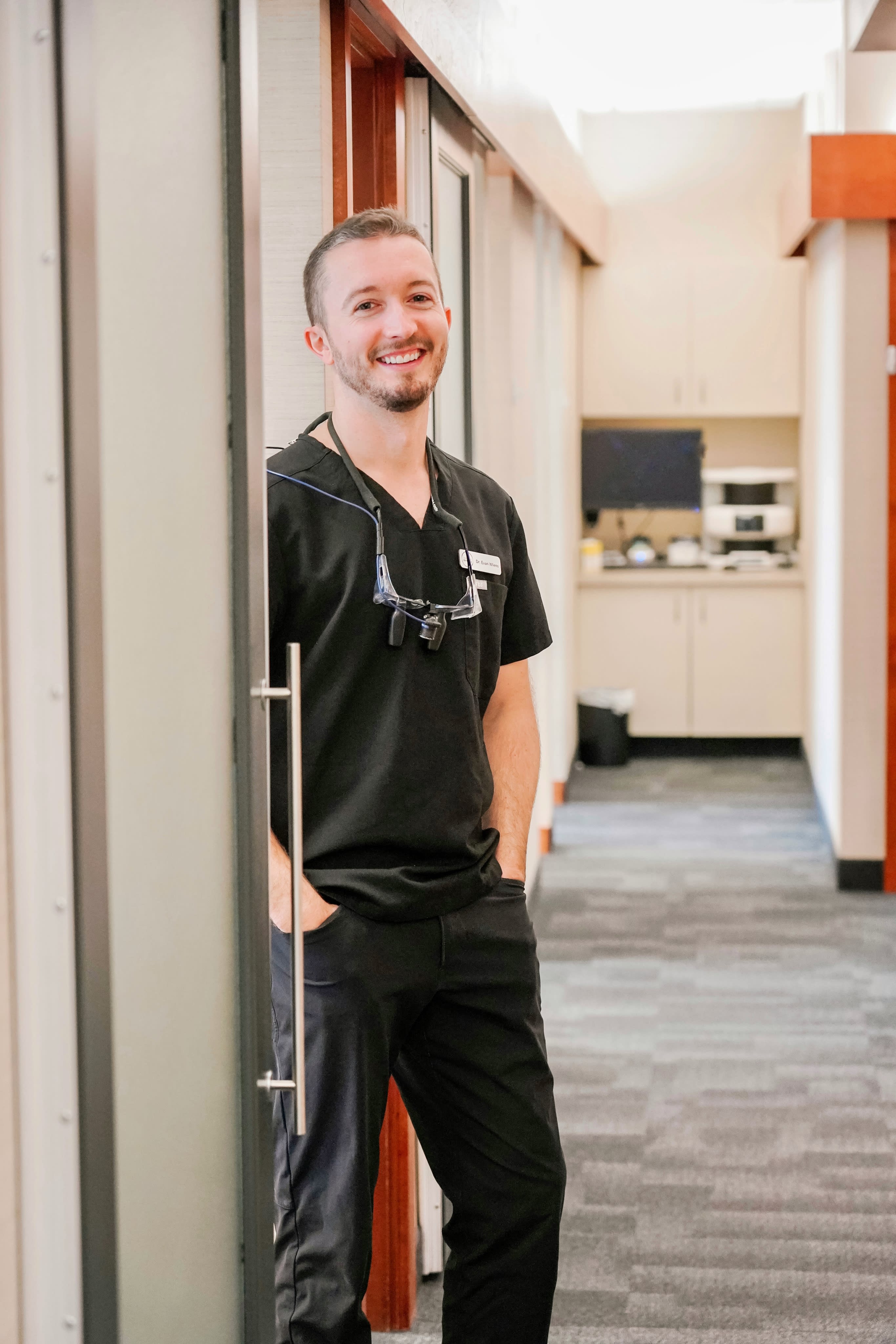 It's time to meet Dr. Evan Wiens! He has cared for our patients for almost 10 years and is passionate about improving lives through dentistry. While most of his time is spent either providing dental care or keeping himself up to date on the latest dental research, he also makes time for family, friends, and fun!
Here are some fun facts to get to know him better:


Where are you from and how long have you lived in Kelowna?
I grew up in Abbotsford, BC, and after living in Vancouver during dental school at UBC, I settled in Kelowna in 2013 with my family.
Who is your favourite person to spend time with?
My wife Jen is my favourite person! She has unwaveringly supported me through so many changes in our life together. Although it is hard to choose just one person, because I also love spending time with my two favourite little dudes (my sons). We have a blast skiing, biking, and playing the occasional video game together ;)
Describe yourself as an Okanagan dentist in one word.
Practical.
If you could go anywhere in the world right at this moment where would you go and why?
Bali. We had to cancel a trip to Bali during the pandemic lockdown and I feel like it would be one of the most relaxing environments to spend a holiday!
What is your favourite activity in Kelowna?
There are too many choices! I would say swimming in the lake on a hot summer day.
Something most people don't know about you?
I have played violin since I was 5 years old.
What would your perfect day look like when you're not working as a Kelowna dentist?
My perfect day would involve great coffee, deep powder, and good wine.
If you could change one thing in the world what would it be?
Eliminate food insecurity - so many people around the planet are unable to source quality food that they can afford and this is becoming an even greater issue as climate change shifts the agricultural landscape.
Where would you like to see a positive change in Kelowna and why?
As our big town grows into a small city, we have some increasing "city" problems. The mental illness, addiction, and homeless issues downtown seem to be more overt and widespread than ever. The solution to this issue is not simple, but working towards a solution would be a positive change for Kelowna.
What do you think makes Kelowna great?
The beautiful landscape and endless things to do here make the Okanagan one of the best places in the world to live. We have a four-season lifestyle that I think is unique in Canada.
Why did you choose dentistry as your career?
I like using my hands and focusing on attention to detail, and choosing dentistry with a specialty in dental implants was a way to do that while helping people improve their health. I love it!
Okanagan Dentistry is a Kelowna-based dental office dedicated to providing the highest quality of dental care. Our unique family-oriented approach ensures that everyone receives the highest level of care and that we are continually improving lives through dentistry. Contact us today!