Dr. Jessica Reimer
Jessica is incredibly honoured and thrilled to join the Okanagan Dentistry team! She is exceptionally personable and strives to build lasting relationships with her patients. Dr. Reimer enjoys helping others improve their dental health and is especially compassionate with anxious dental patients.
She was born in small-town Saskatchewan but grew up in Kelowna, BC where she spent her childhood riding horses. She completed her Bachelor of Science (BSc) and Master of Science (MSc) degrees in Microbiology at the University of British Columbia, Okanagan. After that, she became interested in dentistry after volunteering at the Kelowna Gospel Mission Dental Clinic, which provides dental services to low-income families, those on income assistance or disability and the homeless.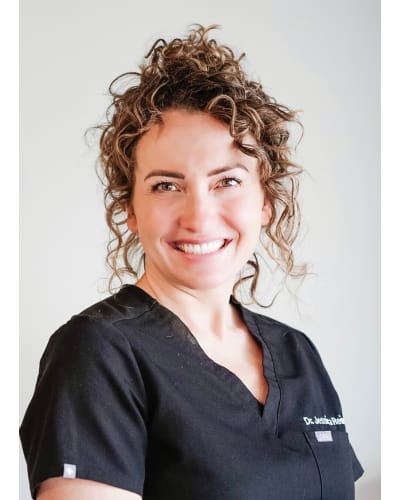 Dr. Reimer was granted the opportunity to study dentistry in Australia at James Cook University in Queensland. Afterwards, she completed a 'rural and remote' focused residency program that allowed her to travel to Australian Outback communities and provide invaluable dental care for those who face some of the greatest oral health risk. Upon returning home to Canada, her rural and remote experiences fueled her passion to provide dental care in some of the most Northern regions of Canada. Dr. Reimer has been living in Whitehorse, Yukon providing preventative care, trauma management, oral surgery, endodontics, and restorative treatment for patients from far and wide (Alaska, Northwest Territories, and Northern BC). After many years of travelling and gaining exceptional dental experience in diverse clinical settings, she is excited to call the Okanagan 'home' again with her husband, Steve, and black Labrador, Jake!