Invisalign
Are you self-conscious of your smile because your front teeth are not properly aligned? Have you ever considered orthodontic treatment but you would never get braces? If so, you may be a candidate for Invisalign treatment.
What is Invisalign?
Invisalign uses a series of virtually invisible aligners that straighten your teeth without brackets and wires. Each aligner is worn for approximately two weeks, and you can take them out to eat and drink, brush and floss, and clean the aligners. Each time you change to a new aligner it is similar to having your braces "tightened", and your teeth will slowly move towards the position that Dr. Wiens or Dr. Bose-Roberts has prescribed.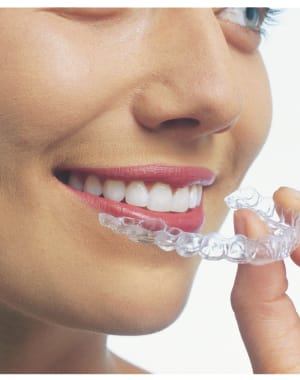 How does Invisalign work?
Orthodontic Examination: Impressions of your teeth are taken along with a thorough orthodontic examination, necessary X-rays, and photos.
Treatment Planning: Dr. Wiens will prescribe the movement of your teeth using 3D software to the ideal position for both esthetics and function (your "bite"). This may take a week or two as he perfects the treatment plan.
Consultation: At your consultation appointment you will see your teeth move in 3D to the final position. Dr. Wiens will discuss the final results, total treatment time, and any other considerations with you until you are both happy with the plan.
Insertion Appointment: Your first aligner will be inserted and any necessary attachments (temporary tooth-colored bumps that facilitate particular movements) will be bonded. You will also receive instructions on how to care for your aligners.
Maintenance Checks: As a general rule you will receive 3 sets of aligners at a time; enough for 6 weeks of movement. Every 6 weeks you will come back to our office for assessment of your progress, any necessary prescribed tooth modifications (you will discuss these at your consultation) and to receive the next 3 sets of aligners. The average total treatment time is approximately 8-12 months.
Debonding: Once your teeth have reached a stable final position, your final aligner and attachments will be removed. After some final photos of your new teeth we will take new impressions for your retainers. Retainers are very similar to aligners but they are made of a different material. You will need to wear your retainers regularly for two years to prevent relapse.
Retainer Delivery: A few days after debonding your retainers will be ready. We will deliver the retainers and your treatment will be complete!
Please ask Dr. Bose-Roberts or Dr. Wiens if Invisalign is right for you. To find out more information please go to www.invisalign.com.